A couple of years back I was following a site that had a great insight: track Valve's Steam prices and point out the best deals over time. It was great because if you are interested in a particular game, it was just matter of waiting to get a big promotional discount! Unless you are super-duper fan and want that game now, or it has a very heavy multiplayer component, here is no need to buy a $40-$50-$60 game. It will eventually get much cheaper (and much sooner than you imagine).
Unfortunately, I forgot the name of it, and I am a lazy writer that is not in the mood to search.
The good side is that is not needed anymore. That site closed doors and I discovered IsThereAnyDeal.com. It follows the same basic idea but in much bigger scale. It tracks Steam, GOG and a dozen of other online portals.
Also, it offers a chance to create custom alerts when a desired game get a price bellow a threshold. Indie games are often bellow $5. AAAs are also often promoted bellow $10. It opens a great window for great deals. My wanted list now have about 30 games!
It sounds unfair to the creators. But with so many good games in the market right now, I can play them all if I buy them cheap, or choose one or two with full price. Indies gets much more opportunities this way. The big players, that invest millions on a single title hopping to sell millions at a full release price, will suffer more and will have to adapt.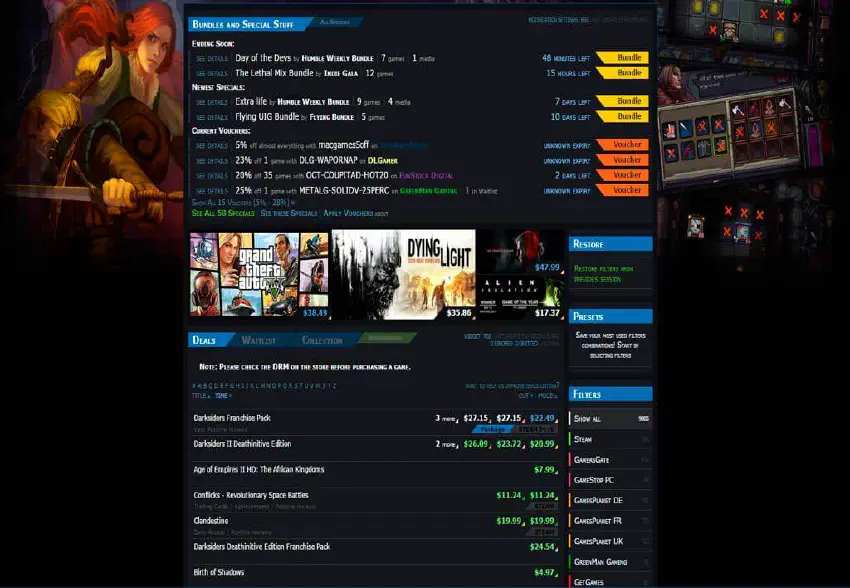 Just like Netflix, the abundance of games opens great business opportunities for those that have a long tail catalog instead only high-demand products.
So if you are a game developer, never count on making most of the sales with the full price. It was not true before, and it is even more true now. Your projections should include several strategies for promoting your product so 2-3 years at least.
With proper marketing and positioning, companies still can attract audience during launching. Mario, Zelda, Fallout, The Witcher, Doom and many, many other titles are recently launched and have massive initial sales. Of course there are always an EA, Ubisoft and Activision that tries to implement some weird and fake mechanism that forces players to buy or play in very specific way. Disasters like SimCity happens to them…
Otherwise: have fun buying!