Middle-Earth: Shadow of Mordor
https://www.brunomassa.com/en/blog/middle-earth-shadow-of-mordor/
Bruno Massa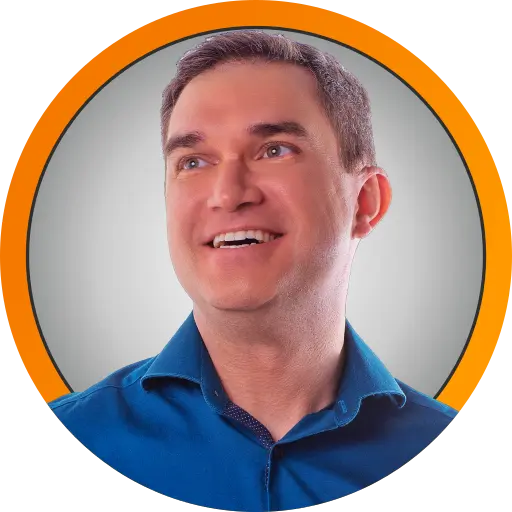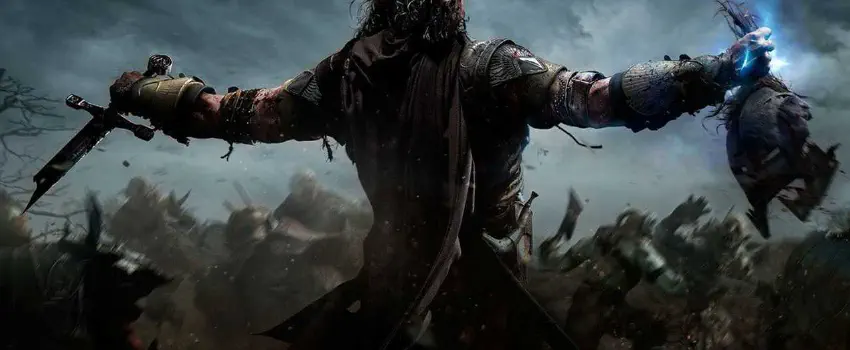 2016.02.21
Middle-Earth: Shadow of Mordor
Shadow of Mordor is one of that type of game that sucks me in a way that I cannot stop desiring to play. My last love was The Witcher 3, which I slowed played for more than 125 hours during months. But the scope is so much smaller that TW3 that I was determined to finish the game as soon as possible. It took me about half a week, but I did it. SoM is officially over. Credits, like in all modern game or movie, are endless. Satisfaction. Because I am a completionist, I still have it installed to allow me to go back to it and at least finish the 100% mark (I would love to do all the Steam achievements too, but some are too obscure).
The mechanics presented here is nothing new. The main character, Talion, is an Assassin's Creed wanderer. He climbs castles, towers and hills just like any AC character always do. The advantage here is that the enemies, the orcs, are very stupid and lose track of you almost instantaneously. Each to run away from messy situations. The combat is also very derivative of this new generation of third person action games, just as Assassin's Creed, Batman and God of War. It is very generous on targeting your enemies. The counter attack time window is very broad.
Shadow of Mordor, therefore, is an easy game once you get the general flow. However, it is very fun.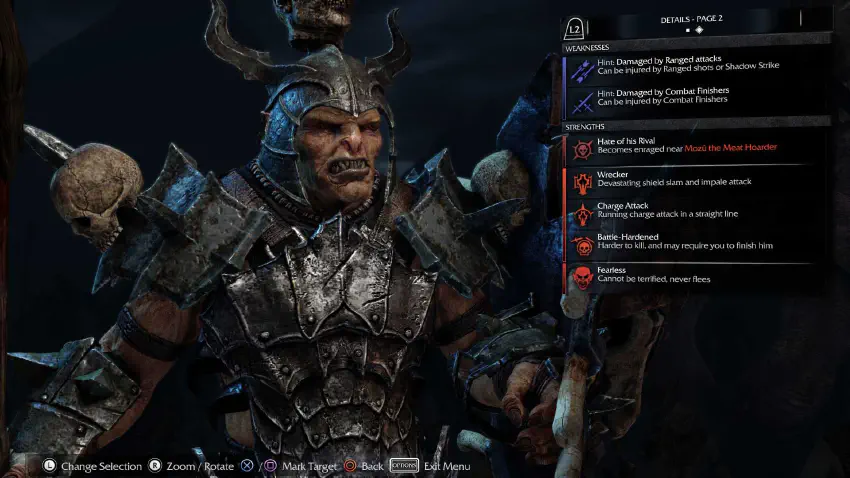 One of the main features of this game is the nemesis system (it is how the developer calls it). In the game, orcs have a hierarchical military structure and they interact withing the chain quite often. The challenge rivals, assume the vacant position, are promoted. Killing the high command leaders triggers a series of promotions. Player can also induce rebellions, plot assassinations and other situations that actively shapes a new order. It is fascinating mechanics. You will get furious to see an orc getting more powerful and promoted because he killed you. In their culture, it is a demonstration of mighty.
Another cool concept is that any of these orc leaders have strengths and weaknesses that you can, and should, explore. They can be immune to ranged or melee attacks, forcing you master all the combat techniques. They can also have a critical fear of bees, caragors (a thematic tiger) or traitors infiltrated in their outpost. Exploiting such flaw will make them act erratic and try to run away. It will open a great opportunity window for finishing them off. Every time you need to kill one of them, it is imperative to study these character aspects to plan the strategy.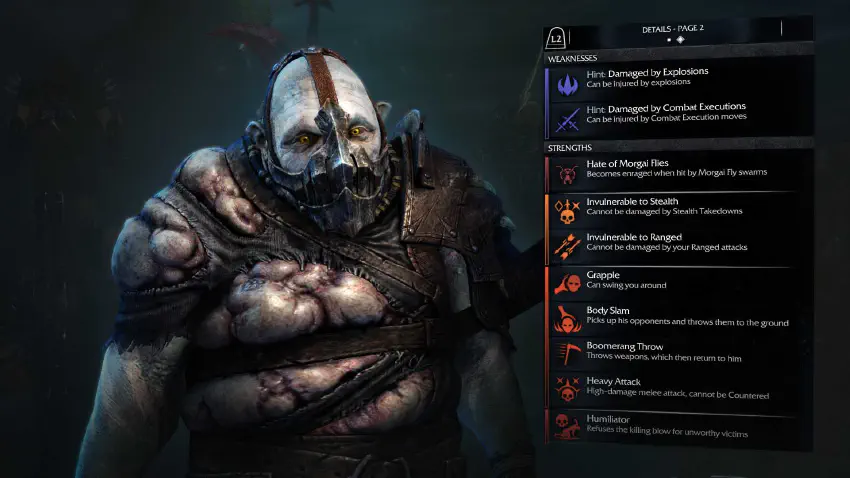 Graphically the game is stunning. I could run it in full HD in High preset and several times I had to stop just to take a mental photo of the moment. Nothing to comment further: great.
The story, however, is just ok. There are some problems that annoyed me:
It is too fragmented: there are some secondary characters that come and go in matter of two missions. Some are genuinely cool, but vanish from the story too soon.
The bosses are mini-games: there are basically 3 bosses in the game. Without spoiling the story any further, they are merely a mini-game. Almost no interaction. And they are not present throughout the game, so I was never engaged to kill them.
The main story is essentially a tutorial: the game have a core mechanics that is supposed to be an infinite loop. The main story presents new combat or gameplay features until almost the last mission! And like any tutorial-mission in games, they are always easy on the player.
There is one aspect of the game story that I liked and I feel worth to mention: the lore of the game. While the game is not about the main events of Lord of the Rings (it happens long before the LotR), it crosses with some cool characters and events that made me feel it was part of the famous story.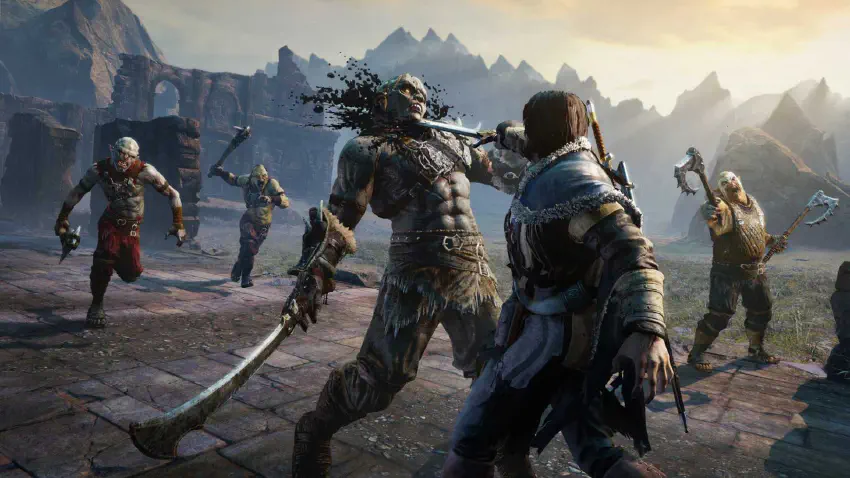 I enjoyed Shadow of Mordor very much. I recommend you to play it. I was curious when all major game reviewers were telling very good things about the game (they also were surprised). Due to the Brazilian current ratio, I had to wait for a better price; and it was worthy!
---