Enslaved: Odyssey to the West
https://www.brunomassa.com/en/blog/enslaved-odyssey-to-the-west/
Bruno Massa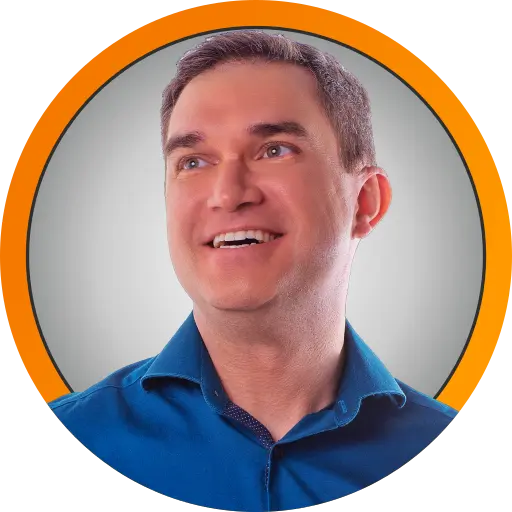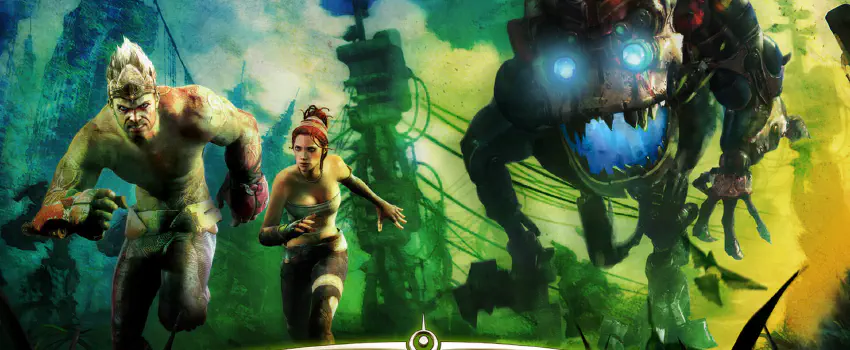 2017.10.27
Yesterday I finally finished Enslaved: Odyssey to the West. Great game! Underappreciated and undersold.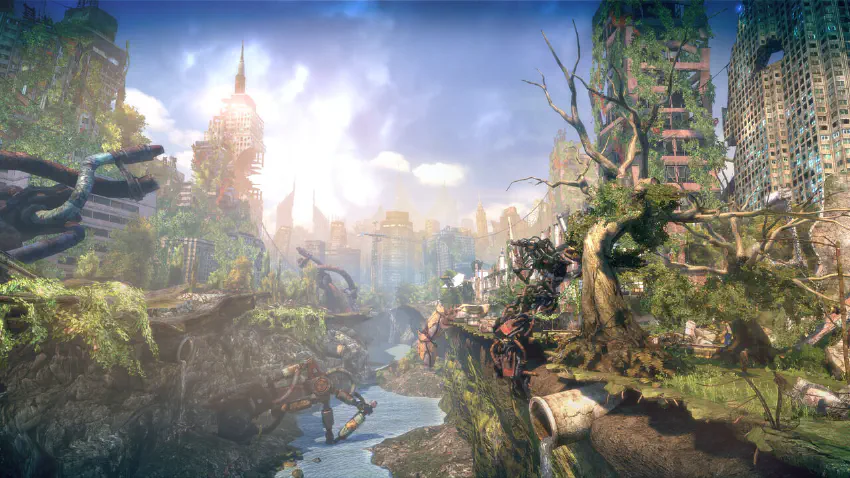 It tells the story of Monkey, a brute man that is really flexible and versatile. Gameplay and game story wise, this character makes much more sense those characters on Assassin's Creed, parkouring around. He is a humble and simple man, that was captured as a slave. He finds Trip, a beautiful and resourceful girl that faces the same destiny. However, their destiny changes when the transport airplane suffers a problem and crashes. Trip and Money survive. Trip wants to return to her father and see the opportunity to do something really bold: uses a device to enslave Monkey using a special collar. Or he helps her to return to her home, or he dies. If he tries to remove the collar, he dies. If he gets too far from her, he dies.
He wants to live. So he decides to help. So the game starts.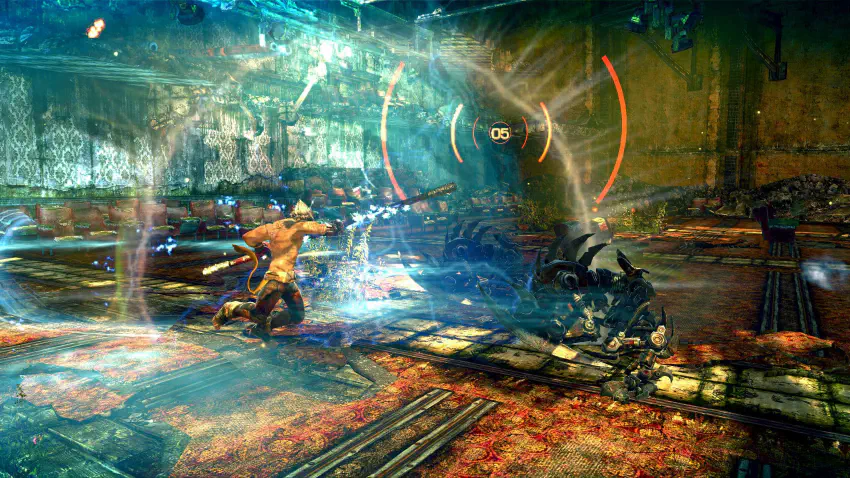 The gameplay is basically a combat and 3D exploration and parkour. In a sense, is a mix of old Mario 64/Lara Croft, with Assassin's Creed combat. It sometimes requires some puzzle solving, but generally they are very easy. The combat is rudimentary and only require some tactics and button smashing. Bosses are difficult, however. Time to time, the mechanics change to something special, like controlling a gun turret, but 99% of the game is very straightforward. In fact, it is probably my biggest complaint about Enslaved: Odyssey to the West: after while, you will not get anything new to do. It's just repetition of the same things. This is the reason I played about half of the game, stopped and only returned several months later, with the mission in my head to finish it once and for all. It was surprisingly good, nevertheless.
Oh, there is another thing: every time you die, you are moved back to the last checkpoint to try again. Great. HOWEVER, you are forced to see the cinematic that are often played before the action. Every time. If it is a challenge part, like a boss, I bet you are going nuts for the time wasted. Developers, never (I repeat, never) do this. It is super annoying.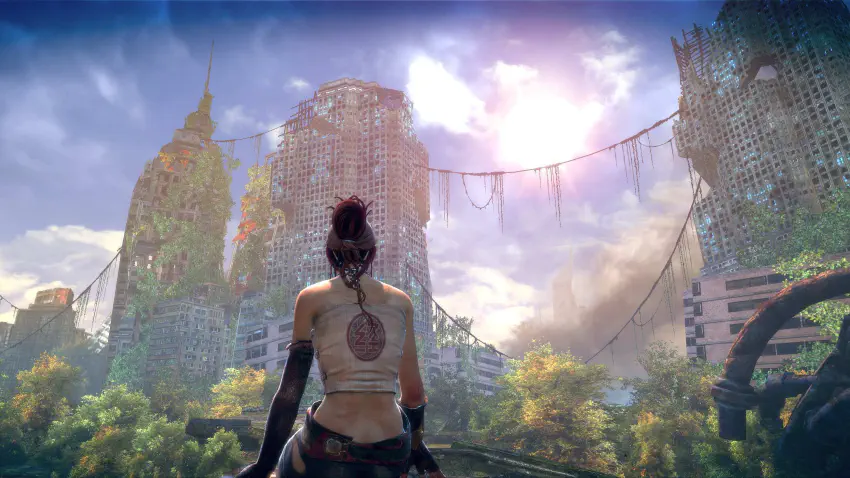 The visuals are a big plus here. Even for an older game (originally released in 2010), the game is still gorgeous. It has personality, flavor. The scenarios are all very pretty as well the characters. Money and Trip show emotions in a level that more modern games still struggle to accomplish. The animations are great and fluid very plastic.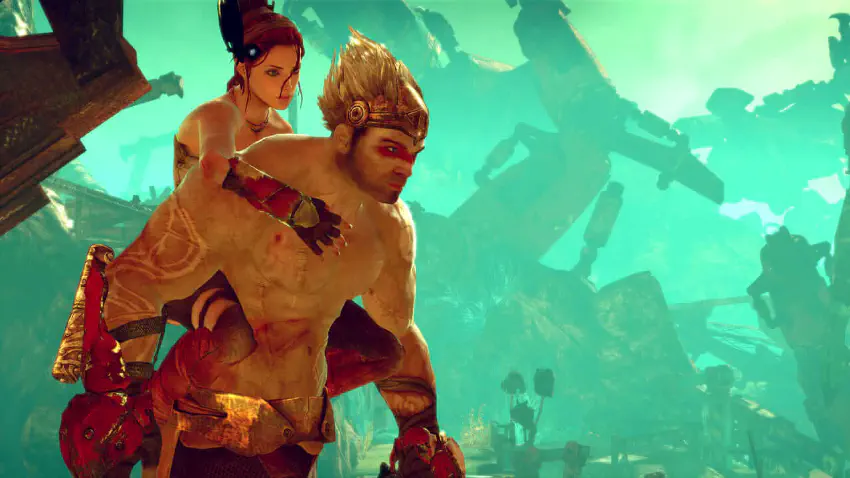 The story is also a great point for the game. It is original, personal and compelling. You will love the couple. The protagonist is likable! What a great feature, so rare! The companion is a bit arrogant, but she is also very likable. Only the third guy, named Pigsy, falls into the typical NPC of boring, arrogant and annoying. Yet he is cool. 3 characters total and the story is still super cool. Great achievement. The ending is a bit of "the architect moment in the Matrix", trowing a lot of information to give it all a closure, but it is really great and memorable. The main "villain" is also played by Andy Serkis, which plays the main character Monkey, is a big surprise (don't worry, it is not exactly a spoiler).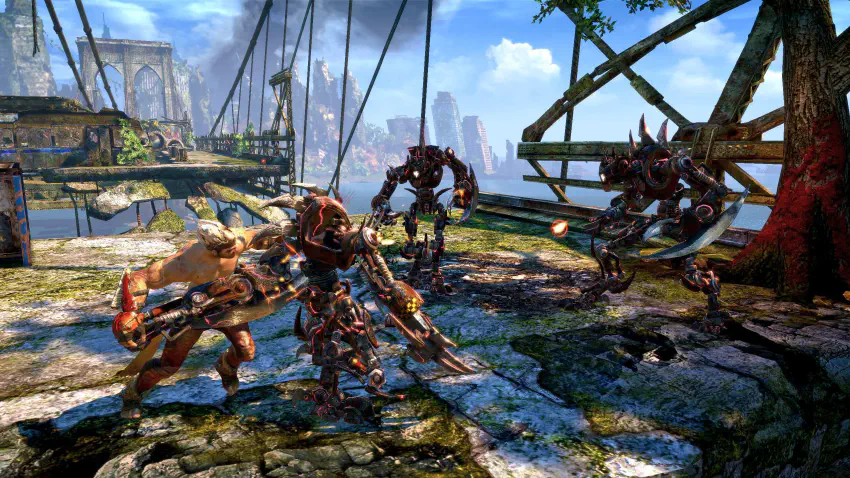 Overall it was a great experience. I believe it is a new classic. The same kind as Blade Runner, that was critic acclaimed, but a commercial failure.